AP Research Students Submit their Research Papers
After five strenuous months, the AP Research students have submitted their final research papers for the AP Capstone pathway.
AP Capstone, introduced last school year, is a two-yearlong program made up of two consecutive AP courses, AP Seminar and AP Research. Students who choose to follow the AP Capstone pathway are awarded either the AP Capstone diploma or certificate awards according to their scores on the final AP Seminar and AP Research exams.
AP Research students have been working on a 4,000 to 5,000-word research paper since the beginning of this school year. Students were able to select any topic in which they were interested, propose a research question, and then implement a research method in order to answer this question.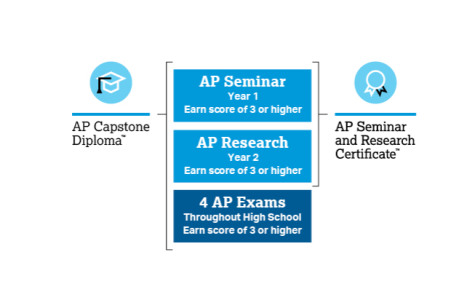 "With AP Research, I enjoyed how we were able to conduct research on whatever we wanted to choose," shared Omoefe Odiase, senior.
Amongst this year's, and PV's first year, AP Capstone class of 19 students, research topics varied from artistic pathways, and mental health pathways, to STEM pathways.
Odiase's research project compared the anxiety levels of adults in the United States and India during COVID-19 and prior and she coupled research methods.
"I like how I was able to gain skills of conducting different types of research, specifically meta-analysis and trend analysis," shares Odiase, "I found the research process interesting because I was able to not only understand the levels of anxiety in the locations but also take into account and further research the effects socioeconomic statuses play on these anxiety levels."
In continuation with the STEM route, Ryan Daugherty, senior, focused on comparing the feasibility of school Chromebooks to that of the Raspberry PI computer.
"[AP Research] wasn't like anything I'd taken before. The research process was interesting and I've gained skills that are actually helpful rather than some other AP courses that could be otherwise useless or less helpful in my future," expresses Daugherty.
On the contrary, some research students followed a more artistic pathway. Mallory Bay, senior, chose to narrow the scope to three movies in which she then focused on the representation of the manic pixie dream girl trope in these films.
Bay's research included analysis on films such as "Eternal Sunshine of the Spotless Mind" where she was able to implement content analysis and semiology, the study of signs and symbols, on the manic pixie dream girl characters prevalent in these films.
"I liked how open [the research pathway] was and how we could all work at our own pace," Bay shares, "The classroom environment is also really supportive and interactive and there was a lot of collaboration between peers."
As the school year comes to an end, the work of these 19 students will be recognized at the Senior Awards Night as AP Capstone certificate and diploma candidates.
For students interested in the AP Capstone pathway or interested in advancing their research skills, the next school year anticipates four sections of AP Capstone courses which will all be taught by English teacher, Douglas Hesse.
"Take the class!" says Bay. "It's just a lot of fun and it's really different than a normal English class and, overall, just better."
Leave a Comment
About the Contributor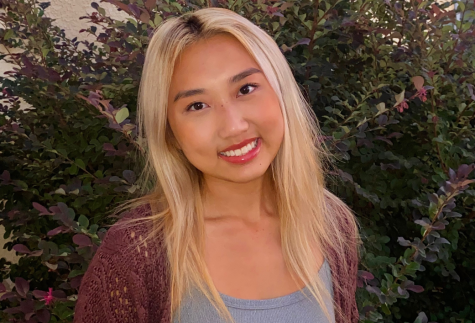 Destiny Lee, Editor
Destiny Lee is returning for her second year as an editor! She hopes that she can create a space where her peers can stay connected, be empowered, and...