PV Athletes Sign to Top Colleges
In addition to focusing on classes, college applications, and scholarship opportunities, PV's seniors have also been participating in extracurricular activities, including sports. For the athletes who wish to also play in college, some seniors have been given the opportunity to commit to play for some colleges.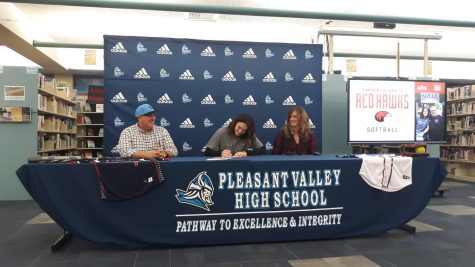 On December 7, softball centerfielder Nicolena Holen was signed for Simpson University in Redding. Simpson University is a Division III competing school. Holen intends to major in "biology or chemistry, or some biological science." After college, Holon wants to be an anesthesiologist. 
Holen also shared her experiences with the recruiting process. To start, Holen says, "For most tournaments that you sign up for, for travel ball, that I compete in, you sign up to be recruited by college coaches either online through the website or in person at games…I personally prefer to email coaches, or text them, or call them, because it shows that I care." These are ways Holen says to start getting coaches to notice and pay attention to potential athletes. To start her on her Simpson path, Holen was the one who reached out to the college. Holen recalls, "I reached out to Coach Wayne, the head coach, and we set up a visit date, so then I went up there on the visit, practiced with the team one day, stayed the night in the dorms, stayed with the students, so I got to be involved in what they do every day for a practice schedule and school schedule. Next day, woke up, went to school with them, and then went to practice later that day as well." It was that day Holen says she got the offer to play for Simpson University, and Holen accepted the offer. Holen describes this as a 'verbal commit.' Holen elaborates, "When you make a verbal commit, it doesn't mean that you're totally committed, it's just more like saying, 'Yes, I'd like to play at the university,' so that's what I did. After that, I considered my other options for universities and college to play, and I considered my other options, and I decided that Simpson was the best fit for me." When she was looking for colleges, Holen mentions, "When I was looking for universities and colleges, I was looking for something close to home, so I could come home and travel whenever I wanted to on my free time, and something that would have my desired major."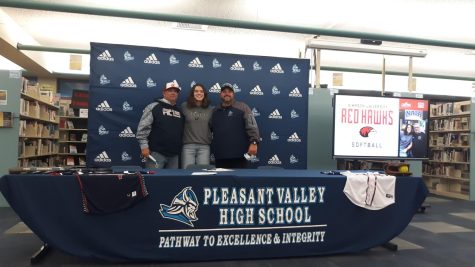 The next step was for Holen to be formally signed to play for the college, with Holen signing a contract. Holen remembers, "Coach Wayne came down here to PV, and he signed with me one morning…so that was the official signing. I also held a ceremonial signing just for my teammates, the people at school, coaches, and family members…to come and witness it."  After an athlete signs to play for a college, Holen says it is difficult to change your mind. She says, "Once you sign as an athlete, and you make a commit to the university, it's…official…and that's where you're going. It's very hard to back out at that point, so at this point I [had to be sure], and I was." As far as scholarships go, Holen received both an academic and athletic scholarship. She comments, "My scholarship is a partial scholarship…it's about two-thirds for both academic and athletic in total, so I still have a little bit to pay off, but not too much." This is normal for athletes who get signed to play at Simpson. Holen speculates, "Yeah, most athletes who get signed for Simpson, I would say, get at least an athletic scholarship, and if their grades are good enough, I would say they get an academic one too."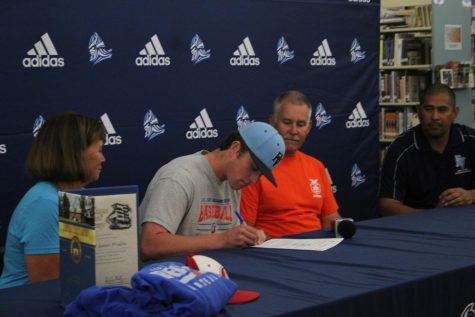 Another spring sport athlete, Raymond (RJ) Priddy, a pitcher for PV's varsity baseball team, was signed to play baseball for the US Coast Guard Academy on April 27. Located in New London, Connecticut, the Coast Guard Academy has a Division III competing sports program. Priddy is planning on majoring in civil engineering. However, this was not the only college Priddy was approached by. Priddy recalls, "I was talking to a few other schools about playing baseball, but this one, the opportunities there are just unmatched, and really great experiences there I think I'm going have. It's just a really special school, and great academics to go along with being able to play baseball as well." To help pay for his education, Priddy explains, "How it works at Coast Guard Academy is all students there are on a full-ride scholarship, and that's contingent on serving five years active duty afterwards in the Coast Guard."
Reflecting after his signing, Priddy says, "It was a really cool experience today, to be able to sign, have all my teammates here, all my family, and all the coaches that have helped me throughout the years."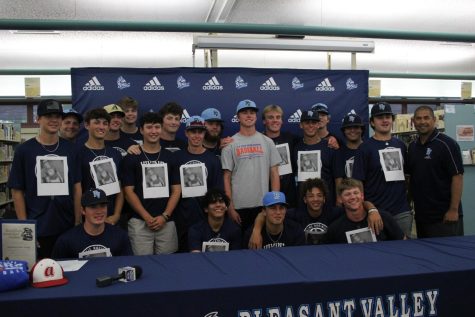 To anyone who wishes to play college sports, both Holen and Priddy have advice. Priddy says, "It's great to start talking and emailing, speaking with coaches as early as possible, just getting that film and being able to play in front of them is just really essential to beginning that conversation with them and eventually getting those offers. The earliest you can be talking to them, the better, I'd say." Holen has similar advice. She remarks, "Just put yourself out there; don't be shy. The best time to talk to colleges and get recruited is at tournaments, especially showcases, because there's a whole bunch of college coaches, it's their job to be there, so I mean, you shouldn't be shy in going up and saying your name, and where you play on the field, and what you'd like to do in college, because that's what they're there for…and if you make a good enough impression, they'll come back and watch you…I would also say the more options that you have, in either colleges or universities, the better it is for you, because if you only talk to one or two colleges, but then go up there for a visit, or go watch a practice, or their play, or something you don't like about the school, and then those are the only two colleges you've been talking to…you don't have a lot more time after that to make a decision."
Listed below are some other students in the PV Class of 2022 who are committed to a college. 
Outfielder Riley Kucich is committed to play softball for Butte College.

Midfielder Faylin Berkowitz is committed to play Division I soccer for University of the Pacific.

Tryon Jarden signed to Division I school, University of Nevada, Reno, on April 14 to run cross country. 

Noah Thomas, a point guard and shooting guard, signed to play basketball for Oregon Tech. Thomas has also been named the MaxPreps Division III State Player of the Year.
Leave a Comment
About the Contributor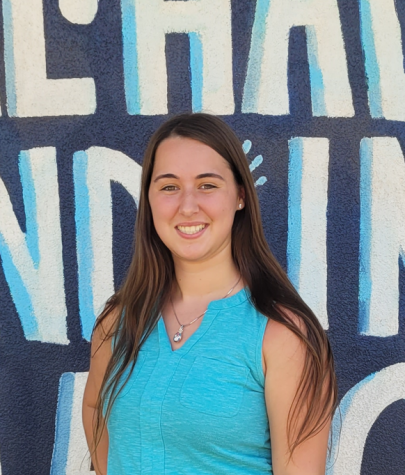 Makenna Wines, Editor-In-Chief
Makenna Wines (Class of 2023) is a senior, and this is her second year on The Saga. Last year, Makenna was the web designer for the club, and she really...