Graduating Seniors to Celebrate in-person
The graduating class of 2021 faced a year full of uncertainties as their senior year was put on pause. Though a few sports seasons have begun, events that define Viking Pride such as the Almond Bowl, school dances, and prom have been delayed or halted due to the pandemic.
"The graduation ceremony will take place on the stadium grounds, while still following the statewide safety guidelines of social distancing and mask-wearing on the bleachers," said Principal Damon Whittaker.
The ceremony processions will continue to resume similar to the previous years, according to the principal. "All graduates will be seated on the stadium field while they process up the stage as the names are being called and recognized as a graduate." Whittaker added. "Based on the guidelines, students will be given four tickets each to share with family members to invite to the ceremony," stated Whittaker. This will be an added layer of safety with no large crowds of audience members filling the bleachers. Currently, the 2021 graduation is limited to 1600 attendees. It will take place on Asgard Yard on June 3 and the ceremony begins at 8:00 pm.
Traditionally towards the end of the year there are a number of senior focused activities like prom and senior sunrise. PVHS administrators are currently are waiting on proposals to be approved by the CUSD administrators who will forward they request to Butte County Public Health to see if those proposals will be approved.
"Looking at the trends downwards I am very hopeful that these numbers will continue to go down which will allow us to reopen to more capacity," concluded Whittaker.
Graduating senior Natalie Williams expressed her appreciation for the school staff for making in-person graduation possible.
"It gives all the seniors one last chance to be together on our home field right before we leave high school forever," she said.
Williams added "[We] didn't get the chance to participate in normal, fun senior activities, so I think it will make a lot of the seniors happy and fulfilled with their final goodbye to high school."
After graduation, seniors normally attend Sober Grad Night, "the non-school function run by the parent organization will be located at the fairgrounds reserved for this night. Parents are now moving ahead with fundraisers to support the event with food, gifts, and activities for the graduating seniors," said Whittaker.
Regarding the annual Senior trip to Disneyland. government teacher Beth Burton said, "The trip has been canceled due to trip advisors being denied accommodations services like hotels for the large senior class, however, we do encourage that seniors gather a group of ten friends or less to get together and plan a trip of their own!"
Graduating senior Mikhaela Compuesto shared her feelings for the upcoming events. "I'm definitely looking forward to senior assassins and the senior pranks to celebrate my milestones alongside other seniors having a blast with these events no matter how difficult times during the pandemic may be. Coming together on the final night of our high school lives, there's nothing more special than seeing all your classmates you've known for years having fun outside of school, which is irreplaceable," said Compuesto.
For more information and further updates on Senior activities, visit activities director Stefanie Volk in O-6 or Principal Whittaker in the Main Office.
Leave a Comment
About the Writer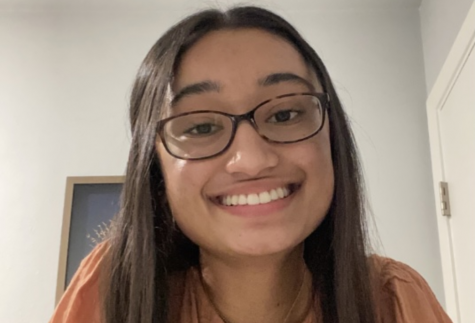 Diya Patel, Staff Writer
Diya, a senior, is one of the staff writers, and this is her second on The Saga. She loves spending time with her family and friends and volunteering to...