COVID-19 Vaccine is Available for everyone 16+
After more than 9 months of human testing and development, the coronavirus vaccine is now available to the public. Over 200 million vaccines have been administered in the United States, according to a recent speech by President Joe Biden. Specifically, students 16 and older are currently eligible. For adults, there are several locations where the vaccine is being administered and more than one type to choose from, but at this time the Pfizer is the only vaccine that has been approved for those aged 16 and up.
According to Butte County Health, currently, those that are under 18 must get vaccinated at the Oroville Clinic or through Enloe by calling (332-9520), or by using the site myturn.ca.gov. Enloe's vaccinations are being administered at the Silver Dollar Fairgrounds.
Whether a student chooses to make an appointment or be a walk-in, they must bring a form of identification. This could be a driver's license or learner's permit. A parent or guardian must also be present. At Enloe, walk-ins are permitted, but appointments must be made if a student wants to get the vaccine through Oroville Clinic.
The Pfizer vaccine uses two separate doses There is a fifteen-minute wait time after one receives the shot, where the student will be monitored just to make sure no adverse effects are occurring.
It is undetermined whether these vaccinations will become a requirement for entering the upcoming school year, just like other mandatory immunizations. When Director of Education John Shepherd was asked this, he replied, "it is really outside the jurisdiction of the Chico Unified School District."
For more information on the COVID-19 in Butte county, the website for Butte County Public Health is a resource.
Due to the rapidity of the development of vaccines, some students and parents are skeptical about whether the vaccine is safe.
A student who opted out of receiving the vaccine claimed, "I don't feel like there's enough research behind [the vaccine]. I'd like to wait and see how it affects people first. My parents don't think it's safe."
Although these concerns are logical, most students are more than willing to receive a vaccine. Within the age group of high schoolers, many are still willing to receive their vaccination. Within a survey of 82 students, 91 percent claimed they were planning to/had already received a vaccination for COVID-19.
When six of the students were asked about their response to receiving the vaccine, there were nothing but positive reactions.
As of now, in America, 3.33 million vaccine shots are administered per day according to the New York Times. In California specifically, 24 million vaccines have been administered.
Vaccinations have been said to help protect the general population. According to John Hopkins Bloomberg School of Public Health, "When most of a population is immune to an infectious disease, this provides indirect protection—or population immunity (also called herd immunity or herd protection)—to those who are not immune to the disease."
For the Covid-19 vaccine, there's an extremely unlikely chance of potential harm or death due to receiving it. While symptoms of nausea, chills, and others may occur after receiving the vaccines, these usually subside within a short period of time. The vaccines have been tested meticulously, and the CDC (Centers for Disease Control) has concluded that the likelihood of long-term negative effects is low.
To get a vaccination appointment, be sure to visit the sites mentioned above or call Enloe. In the future, more locations may cater to the high school demographic, but as of now, the Pfizer vaccine, administered at Oroville or through Enloe are the options available.
Leave a Comment
About the Writer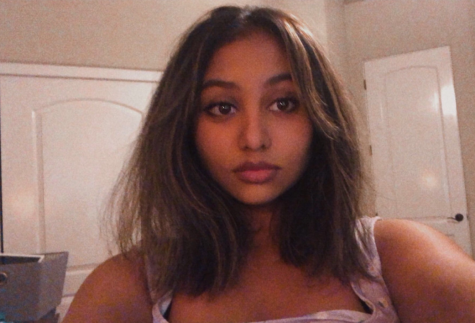 Naina Shailesh, Publicist
Naina Shailesh specializes in writing stories that highlight our ever-changing campus community. She's a senior, and this is her second year writing...