PVHS Triumphs CHS at 51st Annual Almond Bowl
Almond Bowl is the annual face-off between Pleasant Valley High School (PVHS) and Chico High School, two arch rivals, when they compete against each other in a football game and in other sporting events. It is one of the biggest events of the year in Chico, as it quickly sells out of tickets year after year. This year, PVHS and Chico High went head to head to determine who claims the title of the 51st annual Almond Bowl winner. This year PVHS won, scoring 28 points by the end of the game, and Chico High scoring 14 points.
One of the biggest parts of the Almond Bowl was the student section, which was set up by PV's student government. The student section cheers positively influenced the football team and gave them motivation to win their game. Junior Abby Wang, from student government, helped set up for Almond Bowl by "going to Chico High to set up letters, streamers, canvases and other decorations on the guest side of Chico High." However, PV parents started sitting in the bleachers that were originally intended to only be for PV students, which caused the PV students to be pushed to the side bleachers on the far end of the football field. Oliver Carmack, a leader in Student Government decorations, says, "as more and more parents showed up, it was clear [the students] weren't going to be able to get the student section back." However, student government made the best out of the situation by slowly moving most of the decorations to where the student body was and redecorating that area.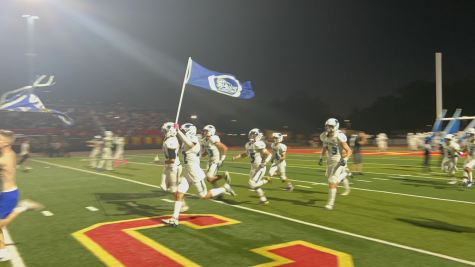 Although the student body was pushed to the side bleachers, the students were rowdier than ever. Senior Harnur Singh, a varsity football player, says the "pumped up crowd was super important and positively affected the football team during the Almond Bowl." This is because many students from the school were supporting the varsity football team during this highly anticipated game. Harnur comments that Almond Bowl helped bring "the confidence and motivation" that he needed for the game.
Leave a Comment
About the Contributor
Elaina Truong, Staff Writer
Elaina Truong is a junior at Pleasant Valley, and this is her second year writing for The Saga. Elaina chooses to write because she wants to communicate...