Winter Guard Wants New Members
Winter Guard was created in 1977 with the idea to have Color Guard members enjoy their sport in their off-season, allowing them a creative outlet to keep their passion for the sport going. Ever since the creation of Winter Guard, Pleasant Valley High School has had a widely popular and successful season. Last year, our Winter Guard team won six first-place awards during their competitions.
So, what exactly is the Winter Guard? And thanks to the website, Topendsports, we have a definition; Winter Guard can be described as "an outdoor sport of the color guard discipline in which teams perform several routines using supporting equipment to record background music." The current captain, Naomi Reynolds, would define Winter Guard as, "[It] focuses more on the dancing aspect of Color Guard rather than the marching band" aspect. When asked what our Winter Guard does specifically, Reynolds replied: "We compete and travel to competition and championships with our performance."
PV's Winter Guard has gone to compete in their division with their creative performances within California, and this year they plan to compete again in the Scholastic Regional AA division, in hopes of achieving another series of wins. The Winter Guard season is set to begin on November 14, when they will hold their open clinics. During these clinics, the attendees will learn how to dance, spin flags, perform, and other vital Winter Guard abilities. On their Instagram page, @vikingcolorguardpvhs, Color Guard's Co-captain, Chrestiena Habroun, has been posting about these clinics in the hopes they will recruit more members to regionals for the 2022 season.
According to Habroun, the Winter Guard is a close-knit family they create within their team. Habroun comments on her own beginnings in Color Guard, saying, "My friend did Color Guard and Winter Guard, and they talked about how fun it was and how nice the people were," along with the familial bonds which have been created within the team. For those who may be on the fence about joining Color Guard and Winter Guard, their captain has a final reason to join. Reynolds advises, "The tips I would give to people who want to join and do it and know that it's never too late to join or start something new and to be dedicated and have fun!"
Leave a Comment
About the Contributor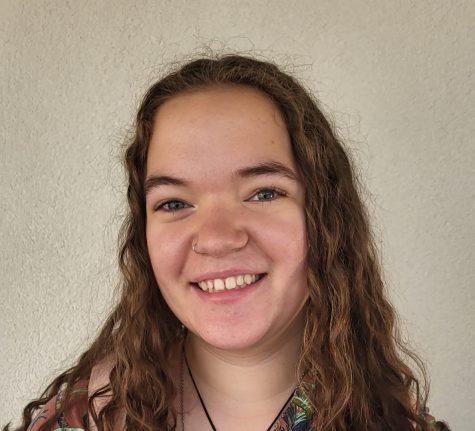 Merri Shiger, Staff Writer
Merri Shiger (Class of 2023) is a senior at Pleasant Valley. She wants to go to college and major in English, and after school she aspires to be a high-school-level...