PV Loses Varsity Homecoming Game…But Wins With School Spirit
On Friday, September 30, PV's football team lost 32-21 against Rancho Cotate High School. Varsity started their game at 7:30, after JV won 32-14 against Rancho Cotate High School at 5:30. Although the Varsity team did not manage to score enough points to triumph against the opposing team, PV's side was full of students and families dressed for school spirit, including wearing white for a whiteout theme, glitter, paint, beads, and more.
By the end of the first quarter, PV was already 7 points behind Rancho Cotate. As the second quarter progressed, PV still didn't score any more points, while Rancho Cotate scored 6 more points. In the third quarter, the varsity team made effective plays, and managed to score 14 points. PV also managed to block Rancho Cotate from scoring that quarter, launching themselves ahead of Rancho Cotate on the scoreboard by one point. However, this lead was not held long, as minutes later, in the fourth quarter, Rancho Cotate gained 14 points by 2 touchdowns, according to Maxpreps. This gave the visiting school the lead they needed to win the game with a final score of 32-14.
Although this was a rocky game for the Vikings, PV's spectator side was full of fans and students from both PV and Chico High. The high turnout was due to this being PV's Homecoming Game. During halftime, a student-nominated court of all grades was voted by their peers to receive recognition. Typically, there is one boy and one girl from each grade, but for seniors, there are three girls and three boys who are nominated for the court, and there is an additional vote by the student body as to who will receive the honor of being the Homecoming King and Queen. This year, the Homecoming King and Queen was Colby Kennedy and Alli Williams. Williams, who is also this year's ASB president, remarks, "I was excited, especially since I was Homecoming princess freshman year, so I was like 'Oh, that'd be kinda cool, freshman to senior year.'" Williams also comments, "It feels great to represent the school, I love Homecoming, where all the alumni come back, it's an incredible experience."
Another senior, Margot Spangler, likes the Homecoming energy, spirit, and community as well. She says, "It's a good environment, I really like the spirit; there's a lot of positivity. Unfortunately the football team isn't doing the best, but still, there's cheering, and everyone just seems happy."
Although they are newer to the school, freshmen Dylan Morgan and Gabriel Sterns have been to many football games in the past, despite the fact this is their first year in high school. They do note a difference between sitting in the regular section with their friends or family, and experiencing going to a football game as a high schooler and getting to sit in the student section. Morgan says, "[Sitting in the student section is] fun, there's a lot more yelling." Another difference from the regular section is that there are typically themes to go with supporting their sports team. For example, the theme for the Homecoming game was white-out. Sterns mentions, "I think that the white out is a pretty cool theme."
With all of the school spirit showing at this game, hopefully it will carry on for the rest of the football season, and into the seasons of other sports on campus.
Leave a Comment
About the Contributor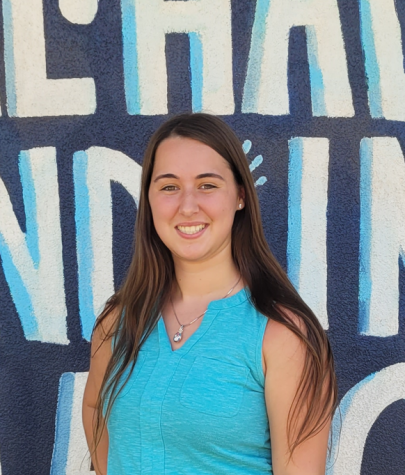 Makenna Wines, Editor-In-Chief
Makenna Wines (Class of 2023) is a senior, and this is her second year on The Saga. Last year, Makenna was the web designer for the club, and she really...