Ways to Volunteer Despite COVID-19
Editor's Note: Over 50% of Pleasant Valley students take a world language class and The Saga is honored to present the first article written in both Spanish and English.
Trabaja Como Voluntario Durante COVID-19
A medida que COVID-19 continúa desafiando la normalidad de la vida diaria, es razonable cuestionar qué será diferente para las próximas vacaciones de verano. Las actividades habituales de verano han sido canceladas o modificadas como resultado de las circunstancias actuales. Por ejemplo, más y más oportunidades de servicio comunitario aquí en Chico dejan de estar disponibles.
Los beneficios del voluntariado van desde obtener experiencia laboral, convertirse en candidato para becas o simplemente para obtener más experiencia para sus solicitudes universitarias. Una consejera aquí en PVHS, Jada Wysocki, dijo: "el servicio comunitario es una buena manera de salir adelante, retribuir a su comunidad, pero también aprender mucho sobre quién es usted como individuo y qué tipo de habilidades tienes y lo que puedes aportar a una comunidad. Ya sea la universidad, si es una fuerza laboral, realmente no importa. Les está dando una experiencia de vida que no puedes obtener en un salón de clases ".
Los estudiantes deberían esperar que el verano tenga unas limitaciones. Sin embargo, todavía hay grandes oportunidades de voluntariado aquí en Chico.
The Butte Environmental Council:
Anna Isaacs, directora comercial del Butte Environmental Council, comentó que "los dos lugares a los que [ellos] dirigirán a los voluntarios ahora son para dos programas diferentes, uno es [el] Organic Community Garden y el otro es [el] Urban Forests Tree Planting Program. Las personas pueden ayudarnos a plantar árboles o pueden ayudarnos en el jardín. Esos dos programas específicamente que estaba mencionando, ambos están afuera, lo que es, ya sabes, más seguro. "
Para aquellos interesados en hacer más por la comunidad y el medio ambiente, existe un rango amplio de programas para voluntarios que se encuentran en esta organización. Para registrarse o para obtener más información, visite su sitio web https://www.becnet.org/volunteer.
Chico Art Center:
El Chico Art Center es un lugar fantástico con oportunidades de voluntariado para artistas o entusiastas del arte, disponible para este verano. Nancy Beliveau, secretaría del CAC y co-coordinadora de voluntarios, probablemente los dirigirán a ser una Docente de recepción, quienes se encargan de saludar e informar a las personas en el CAC, pero también hay otras varias áreas necesitan ayuda. Por ejemplo, los estudiantes podrían encargarse de las ventas, desinfectar áreas o ayudar con otras tareas. Para obtener más información, pregunte por Nancy Beliveau.
American Cancer Society:
En el American Cancer Society, hay una variedad de tareas que requieren la ayuda de voluntarios. Connie Collins, gerente de la Discovery Shop de el American Cancer Society, mencionó que "estas responsabilidades van desde tomar, clasificar y hacer el papeleo para las donaciones hasta ayudar en las ventas". Hay algo para todos y la ayuda será muy apreciada.
Jesus Center:
A pesar de las restricciones actuales que COVID-19 ha impuesto en las actividades habituales, el Jesus Center ha trabajado mucho para ayudar a la comunidad. Recientemente se han mudado y ahora necesitan voluntarios para ayudar, especialmente durante este verano. Los ayudantes ayudarían en la cocina, la granja comunitaria o el trabajo de oficina.
No importa en qué grado están los estudiantes, si son Freshman o Seniors, ofrecer tiempo voluntario puede ser un desafío, especialmente con todo lo que ha sucedido este año, pero considere dar algo de tiempo a estas organizaciones por los beneficios invaluables que están asociados con ellos. Además, tenga en cuenta que a medida que COVID-19 continúa cambiando, oportunidades como estas también lo harán. Sin embargo, recuerde documentar las responsabilidades, las horas completadas y pídale a alguien que firme esto en hojas de cálculo o anote esto en cualquier otro lugar.
As COVID-19 continues to challenge the normalcy of daily life, it's only reasonable to question what will be different this coming summer break. Usual summer activities have been either canceled or modified as a result of current circumstances. For example, more and more community service opportunities here in Chico are becoming unavailable.
The benefits of volunteering range from getting work experience, becoming a candidate for scholarships, or simply getting a boost for your college applications. Jada Wysocki, a counselor here at PVHS, said, "community service is a good way to just sort of get yourself out there, give back to your community, but also learn a lot about who you are as an individual, and what kind of skills you have and what you can bring into a community. Whether it's college, whether it's a workforce [it] doesn't really matter. It's giving you some life experience, something you can't get in a classroom."
Students should expect summer to have its own set of limitations. However, there are still some great volunteering opportunities found here in Chico.
The Butte Environmental Council:
Anna Isaacs, the business manager at the Butte Environmental Council, commented that "the two places where [they] would funnel volunteers into now are for two different programs. One is [the] Organic Community Garden and then the other is [the] Urban Forests Tree Planting Program. People can help us plant trees, or they can help us in the garden. Those two programs specifically that I was mentioning, they're both outside, which is, you know, safer."
For those interested in doing more for the community and the environment, there is an extensive range of programs for volunteers found in this organization. To sign up or for more information, go to their website https://www.becnet.org/volunteer.
Chico Art Center:
The Chico Art Center is a fantastic place with volunteer opportunities for artists or art enthusiasts, available for this summer. Nancy Beliveau, secretary at the CAC, will most likely be directed towards being a front desk Docent, which is in charge of greeting and informing people at the CAC, but various areas need help. Volunteers could also be taking care of sales, sanitizing areas, or helping with other tasks. For more information, ask for Nancy Beliveau, the volunteer co-coordinator.
American Cancer Society:
At the American Cancer Society, an assortment of tasks require the help of volunteers. Connie Collins, the manager of the American Cancer Society Discovery Shop, mentioned that "these responsibilities range from taking, sorting, and doing the paperwork for donations, to helping in sales." There is something for everyone, and the help would be greatly appreciated.
Jesus Center:
Despite the current restrictions Covid has imposed on regular activities, the Jesus Center has worked tirelessly to help the community. They have recently relocated and now need volunteers to help, especially during this summer. Helpers would assist in the kitchen, community farm, or clerical work.
No matter what grade students are in, from Freshman to Seniors, volunteering can be challenging to approach, especially with everything that has happened this past year, but consider offering some time to these organizations for the invaluable benefits associated with them. Also, keep in mind that as COVID-19 continues to change, opportunities like these will too. Nonetheless, remember to document the responsibilities, hours completed, and have someone sign off on them in spreadsheets or anywhere else.
Leave a Comment
About the Contributor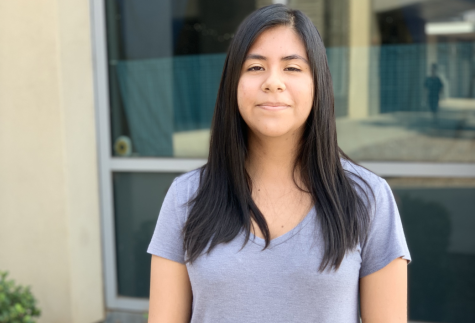 Yulisa Guzman-Rangel, Staff Writer
Yulisa Guzman, a senior at PV, enjoys reading, following recipes, and caring for the environment. Her interest in writing springs from her affinity for...