Homecoming 2021
September 3rd's Viking Homecoming game was a great start to the PV Football teams' season.  Varsity, ending with a score of 38-21 with a loss against Yuba City, had challenges along the way, but our team managed to battle their way through and played strong, with the support of the students and fans in the bleachers.
After about a year of the public not being able to attend games due to Covid, fans were thrilled to be in the stands again with school spirit and cheers. Freshmen Luke Barton and Jenna Norberry were thrilled to be able to fully experience being a part of the Viking family and cheering our team on. Norberry and Barton had both had previous experience going to Almond Bowls before, but Barton explained that this year feels different. He remarked, "It's pretty cool, you're just into it more, I guess, than the year before".
Norberry had been looking forward to attending PVHS events and being a part of the student life again. She said, "ever since…I went to elementary school at Marigold. Ever since there, I've been really excited to go to games."
Homecoming is about remembering our roots, welcoming back former students and celebrating as a community. This is true for PVHS alumni, Malieahrose Woltz, who graduated with the class of 2018. Woltz commented that while she personally was able to go to games last year, as her brother was on the team, her sister, a sophomore at PVHS, "didn't get any of the experiences, and I feel like she missed out on a lot." Woltz also commented that "It's nice to see all the faces, and everyone that's here to support."
 Indeed, this year's Homecoming game crowd was made up of not only football supporters, but fans of the Homecoming Court. This year's Homecoming Court was met with much cheer from the audience, made up of freshmen Isabella (Bella) Cox and Isaac Ponce, sophomores Grace Ferro and Brendan Van Nuys, juniors Kalani Sterling and Joey Borello, and seniors Mady White, Cameron Powell, Kenna Chapin, George Maida, Molly Brown, and Chase Mitchell, with Kenna Chaplin and George Maida winning Homecoming Queen and King. Congratulations to all of the Homecoming Court, and let's make this a great start to the year, Vikes!
Leave a Comment
About the Contributor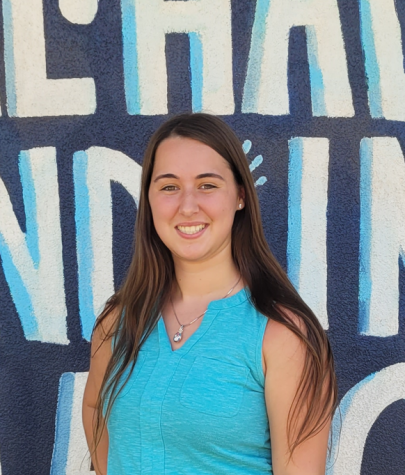 Makenna Wines, Editor-In-Chief
Makenna Wines (Class of 2023) is a senior, and this is her second year on The Saga. Last year, Makenna was the web designer for the club, and she really...