Athlete Profile: Angelique Trueblood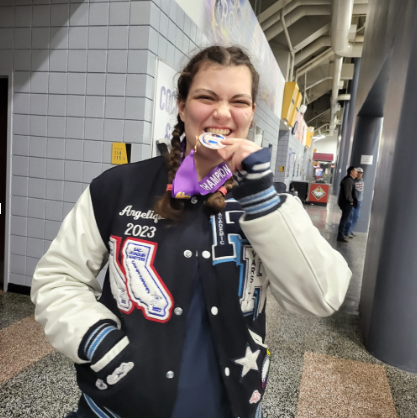 Another Viking has risen to make PV history. Recently, senior Angelique Trueblood placed 7th place in women's wrestling at state, which makes her the first female to not only qualify for state, but to place in state as well. Trueblood has been a part of the wrestling team for four years, although she did not participate her sophomore year due to Covid and a shoulder injury she received the previous season. Trueblood initially joined the wrestling team her freshman year after being cut from the basketball team, but still wanted to play a sport. One of her teachers at the time and the girls wrestling coach, Sam Castillo, talked about wrestling a lot in class, which intrigued Trueblood. After inquiring if girls could wrestle, she decided to try out for the team. Trueblood recalls, "I wasn't very good at first, but I ended up loving it."
Despite her rocky start, Trueblood has worked hard to get to where she is now. Trueblood says to get to state, "You have to qualify two tournaments before. So like, leagues, you have to qualify for divisions, and divisions, you have to qualify for masters. So you have to qualify basically for three tournaments. So you go from leagues, to divisions, and then masters. And then masters's top one got to go to state."
Trueblood has qualified for state twice. Last year, where she says she didn't get very far, and this year, where she placed. Trueblood says placing at state felt, "Crazy. I was very proud of myself, because I got a lot further than last year…It was exciting…It was just a very proud moment, like, 'I did it'. I ended my high school wrestling career on a good note." Trueblood's favorite memories from her time on the wrestling team have been qualifying the two times for state.
To any potential wrestler or female wrestler, Trueblood suggests, "If you're having any doubts about it, or 'Oh, I can't do it,' or 'Girls can't wrestle', I say, go try it. If you like it, stick with it. At first it's gonna be hard, and painful, but it will get better, and ultimately, the connections you make, the friends you make, in wrestling are all worth it."
Leave a Comment
About the Contributor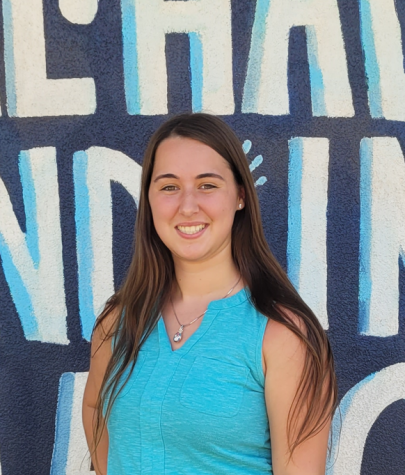 Makenna Wines, Editor-In-Chief
Makenna Wines (Class of 2023) is a senior, and this is her second year on The Saga. Last year, Makenna was the web designer for the club, and she really...