PV's Theater Department Puts On First Show Since Cancellation of "Peter and the Starcatcher" in 2020
PVHS's production of William Shakespeare's Romeo and Juliet was met with a large crowd of students, staff, and the families of the cast and crew. Putting on two productions on January 28 and 29, each show was filled with people eager to see the hard work of PV's theater department.
This is the first show the department has put on since the cancellation of their last production, Peter and the Starcatcher, which was cancelled due to Covid-19 days before opening night in 2020. Cast member of both productions, Destiny Lee, who plays one of the lead roles, Juliet in Romeo and Juliet, says, "It was terrible…we had already been rehearsing for months, already had all of our costumes done, and practically we were ready to open…and then Covid hit, and it was really strange and scary, so all of our work kind of went to waste." Lee, who had been a sophomore when she had been working on Peter and the Starcatcher, "felt robbed of that whole show." However, when the theater department opened up auditions for Romeo and Juliet for the theater classes, Lee and 5 others auditioned by memorizing and performing a monologue for Juliet Capulet. Lee recalled how "For the role of Juliet, I did the off-book monologue of the one right before I drink my poison." 
Unlike Lee, Romeo actor, junior Colby Kennedy, had never acted before this year. Because of this, Kennedy describes opening night as, "At first, it was super nerve-wracking, because it was my first time ever doing a live show. I've never done theater in the past, and so I was super nervous; I had the lead, but I got up on stage, and the energy that the audience gave us…pushed me through the whole entire thing. It was really a memory I'm never going to forget." 
Other cast members were also nervous for opening night. Sophomore Oci McConnell, who plays Sampson and Watchman 1, says before the first showing, "I'm very, very nervous, but it's a show; it's going to be fun, it's going to be very exciting." Kylie Gubbels, also a sophomore, remarks she is "quite anxious, but I get to do it with people I love, so that calms me down."  
Opening night at PV was filled with activity. The Culinary department had a concession stand with snacks and drinks, and part of the PVHS band was playing outside. At 5:30 on Friday night, when the doors opened, the line of waiting people was already long. Families and groups of friends were excited to watch this adaption of Romeo and Juliet. The play was an abridged version of the original play, running a total of about one and a half hours with an intermission in the middle. All in all, great job to those involved!
Leave a Comment
About the Contributor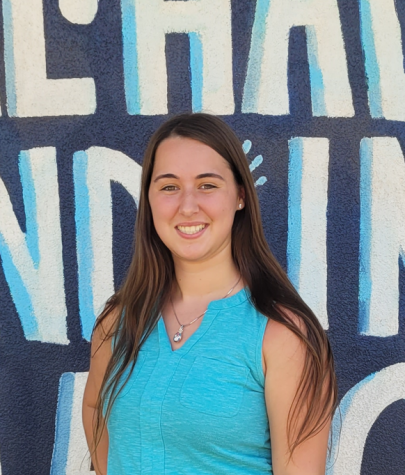 Makenna Wines, Editor-In-Chief
Makenna Wines (Class of 2023) is a senior, and this is her second year on The Saga. Last year, Makenna was the web designer for the club, and she really...