Social Media Issues On Campus Spark Administrative Action
"Vikings, regarding PVHS social media posts, students will be disciplined for providing photos of other students or school personnel as well as the negative/hurtful comments on photos to social media outlets. We have dealt with several upset students and parents recently regarding this issue. Law enforcement will investigate as needed. Thank you for being considerate of others & your responsible use of social media." (January 4, 2022 PVHS Daily Bulletin)
In the past, especially while high school students were on quarantine, social media was used to help students stay connected with their friends and peers. Now that students are back to school, social media has continued to be a source of entertainment for PV students. While there is some good to social media, the effects it has had on students and PV as a school have been mainly negative this school year. Starting earlier this year, TikTok's Devious Lick Challenge spread the trend of vandalizing or stealing school property. This has caused bathrooms on campus to be closed by PV's administration. Even now, months after the main problem, there are still some bathrooms on campus closed off to student use. Junior Ryan Olenyn comments "It's irritating because it gets closed off, I have to walk to Y-building." 
In addition to the bathroom vandalisms on campus, staff have also been having to deal with mask sawing on chairs and phone-related problems. School resource officer, Jamie McElhinney says, "I personally deal with a lot of stuff between kids…sending or receiving nude or explicit photographs is probably, to be honest, half of what I do in my office…that's a huge issue." While McElhinney has not directly been involved in the recent Instagram photos issue, she has heard of the recent problem. She describes, "I have heard about a couple of different accounts, I think there's one where they're taking pictures of people in the bathroom, it's like shoes, though, in a stall…there's another one, I think it's like outfits, bad outfits of PV…I've seen a couple Instagram accounts where students are anonymously posting photos of other students and making generally rude comments." While not much can be done now, McElhinney warns, "When it rises to a higher scale, for me, it comes to law enforcement when potentially it's criminal or hurtful in other ways, and so there can be a police report taken on it, and I will counsel those kids involved, or adults, or whoever it is." However, dealing with these incidents, or other social media incidences, like the recent Instagram issues, McElhinney mentions, "It's hard because there's not a lot of accountability…phones cause a lot of issues because people will say things they wouldn't normally say to someone…there's no accountability, you can just hide behind a phone." 
By using the anonymity of social media, students think they can do whatever they want because they think they will not get caught, and the person they're talking about or affecting won't see what they've done. In turn, while many students on campus may not be involved, they still can be affected or punished in an effort by staff to stop the issue. To avoid having to go to this, students are encouraged by staff to anonymously report harmful behavior to school officials so the issue can be dealt with.
Leave a Comment
About the Contributor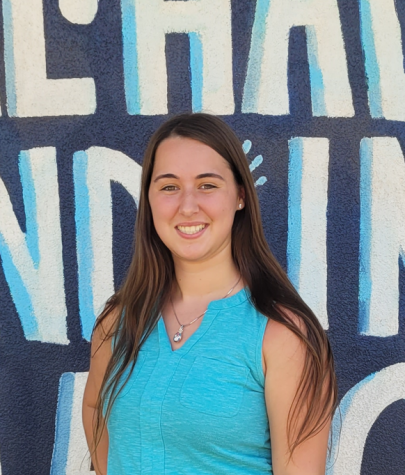 Makenna Wines, Editor-In-Chief
Makenna Wines (Class of 2023) is a senior, and this is her second year on The Saga. Last year, Makenna was the web designer for the club, and she really...