Choir Serenades Students and Faculty with Holiday Classics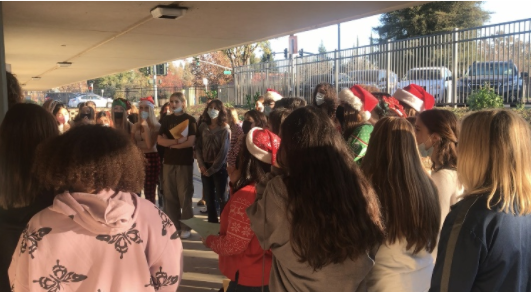 If you've heard the sound of Christmas carols wafting through the air lately, chances are you were lucky enough to have been visited by Pleasant Valley's very own choir class. During the first and second periods of the 2nd and 3rd of December, PVHS's choir program hosted a Christmas gram fundraiser. The choir sold singing grams that students and teachers alike could purchase for $5 each to be sent to one of their peers. For each gram, the choir chose from a selection of prepared Christmas tunes to perform for the recipients: Jingle Bell Rock, Carol of the Bells, Sing Noel, and White Winter Hymnal.
As for why the choir has started this new caroling tradition, senior and four year choir member Zane Kirk explained, "We are trying to raise money for a class trip to a choir festival at Six Flags." This class trip is more than just an opportunity for a fun vacation; it gives the choir class an opportunity to sing in front of a panel of experienced choral educators and receive vital feedback on their ensemble's performance. Kirk hinted that the choir would be trying to do some more projects to raise money during holidays in the spring, stating students should "check Valentine's Day for something similar to come."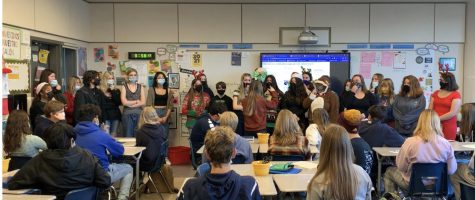 In addition to their caroling pursuits, the choir has been busy preparing for an upcoming winter concert. Junior Kathryn Melanchuk divulged the details of the event, telling Saga staff, "The concert is Tuesday December 7th in the CFA, and it is a combined performance with the Jazz band. Tickets will be sold online and at the door, and they are $7 each."
If students want to hear more of the choir's lovely singing, they should be sure to attend the upcoming concert. Moreover, they will want to make sure to support the choir class by participating in their upcoming fundraising events. The performing arts program has limited funding, and relies on the student body's assistance to give choir students the additional opportunities that they have worked so hard to earn. 
Leave a Comment
About the Contributor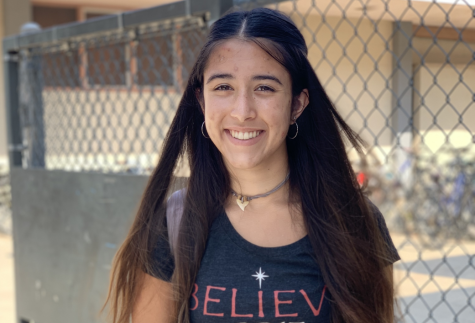 Henley Roy, Staff Writer
Henley (2022) has written for the Saga for two years and enjoys journalism because it helps her stay connected to her school community. In her free time,...