Delaney Thau: Two Time Captain of PVHS's Volleyball Team
Pleasant Valley High School's Varsity Volleyball Coach, J.J Mitchell, says that senior Delaney Thau "is one of the best ball handlers he has ever coached." Mitchell stated that she may be the most intelligent player he's had the opportunity to train and develop.  
This year Thau is a Senior and a two-time captain at Pleasant Valley High School where she plays an essential role on her team. Thau has played the defensive position of libero, setter, and outside hitter making her adaptable and flexible throughout the game and season. 
In addition to her commitment to volleyball, Thau maintains a high academic standing and is admired by her friends and family. "My sister always knows what she's doing. She always knows the rotations while constantly moving around the court and communicates well with the team," said Thau's sister, sophomore Kendal Thau.  
Even though Thau has experienced personal success, she is not one to "hog" the attention for herself. Thau is kind, respectful, and considerate of all the players on her team and truly understands how to delegate and help younger players. Coach Mitchell conveyed how he "loves how his seniors this year don't mind sharing the spotlight with some of the younger players because a lot of seniors only think about themselves." 
Over the past four years on varsity, Thau has produced impressive statistics with 271 sets played, approximately 1.6 assists per set, 428 assists, 159 aces, 617 digs, and 197 kills for her team. 
From the beginning of high school, Thau's talents were recognized by Coach J.J Mitchell. Coach Mitchell pulled Thau up to Varsity as a Freshman because he said, "Delaney's ball control and touch on the ball [were] some of the best he had ever seen. Well, she and Kayla Joice, who is our only All-American Volleyball player."
Growing up Thau had been surrounded by talented players like herself, and as Thau entered middle school decided to take it to the next level. Thau had been an outstanding player for many years, even as early as sixth or seventh grade where she became a frequent training partner for Jade Bennett who was signed to Texas A&M in 2020, Kayla Joice who attends Pepperdine, Makenna Joice who attends Santa Clara, and Lilly who is an All-American at UCLA. 
Though Thau has made incredible strides throughout high school, there have definitely been challenges in terms of practice availability due to the pandemic. "Everything that could have gone wrong has gone wrong. At the beginning of the year I sprained my ankle and was out for two weeks. Our team has had only one week where we've all been able to be together in practice because of the COVID restrictions," Thau described. 
Even with four difficult years of figuring things out with the pandemic, Thau says that her parents continued to support her in every way. Whether it be driving her to a tournament hours away, or even attending a home game, Thau says that they are her biggest supporters throughout her volleyball career. 
Regardless of her high school success, Thau has no intention of committing to play volleyball in college, but still wishes to get involved in a club team where she can continue to play the sport she loves.
Leave a Comment
About the Writer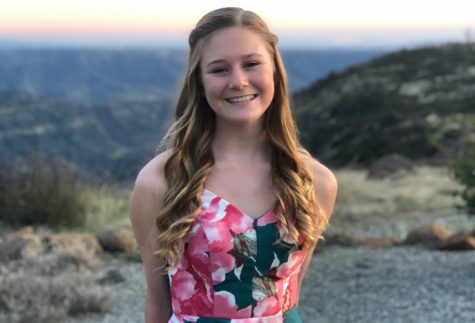 Mallorie Barteau, Staff Writer
Mallorie Barteau is a senior, and this is her second year on The Saga staff. Balancing academics, competitive soccer, ballet, and being a part of the...