PVHS Color Guard Positively Contributes to Viking Spirit
The PVHS School Color Guard, led by captain Abigail Blair, is an accomplished group. Although a large majority of the team graduated this past spring, Blair aims to get the team back on track to enhance the spirit at PVHS.
Color Guard is a relatively new program to PVHS, and with a large group of the team graduating in 2020, they are faced with some challenges. "We are starting from scratch," claimed Blair, yet she has immense faith in the success of Color Guard.
Because PVHS Color Guard is fresh to PVHS, and with the new program they are instilling this year, the team is setting some amazing precedents. "Our high level program allows us to go and compete in Napa this year, which is really cool! This will also elevate our marching band program."
Blair mentioned that Color Guard is open to anyone and you do not have to be athletic to participate in this sport. "There are multiple variations to Color Guard. Everyone has their own flare and their own way to do things. Everything is up to your own interpretation, strengths, and preferences."
The Color Guard team is associated with the band at PVHS, however they have faced challenges being embraced by band members, and others on campus. "Fortunately this attitude has graduated itself out of the program, but this year we have worked really hard to ensure Color Guard is respected as a part of the band."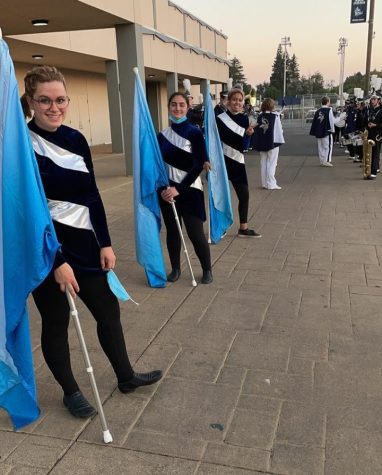 PVHS Color Guard is a great group of students who truly add to the band performance and halftime show experience at Viking football games. The group continues to enhance the spirit at PVHS, by winning awards and gaining recognition at competitions. "Yet we are not shown congratulations like other sports at PV. It is important for people to spread the word of our accomplishments for our school!" Blair called on the student body to become more involved with the success of the Color Guard team.
Color Guard is a distinctive sport, and it is great to see that students at PVHS are able to participate and compete in it. It allows every kind of student to partake in a school activity, increasing the great Viking Family Spirit.
If you are interested in joining the PVHS Color Guard, you can attend a practice on Tuesdays from 6:00 pm to 8:30 pm, or on Thursdays from 6:00 pm to 9:00 pm. Be sure to stay in your seats during the halftime show at the football games to cheer on the Color Guard performances.