PVHS Cancels Almond Bowl Rap 2021
The Almond Bowl has one of the biggest turnouts for high school football games at PVHS. The game is played between PVHS and their rival team CHS. There is typically a spirit week to celebrate and a rap put together by House of Blue.
Blue Crew, a new club on campus, has been playing an active role in boosting morale at the game and will be present for Almond Bowl. Senior Bryson Howell explained, "Blue Crew introduces school spirit to everyone, it used to just be the senior boys in the front, but Mrs. Paul and Mrs. Volk wanted to be able to include all grades and females as well."
Outfits are an important part of the school spirit and Howell, who has been dressing all out at the games stated, "I have already started planning my outfit in all blue and white because I feel like if I am going to be leading the chants I need to be the best dressed to encourage participation."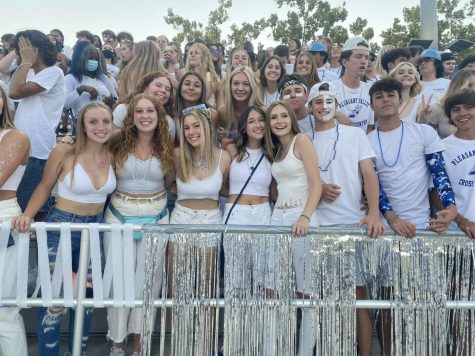 Howell believes that with all the cheering at games it makes the difference. He said, "When you have good, positive energy, and you have your school behind you win the game."
The Almond Bowl rap has been a tradition at PVHS for many years and is played at the rally before the game to boost excitement for the game. Unfortunately for 2021, the production of the rap has been halted and will not continue per a decision made by Chico Unified administration.
Senior Justin Livingston had taken a leadership role in the production of the rap and stated that "the tradition of the Almond Bowl rap gets everyone excited to be here and gives something to the students that they can look forward to."
Before the superintendent and principals stopped the rap creation efforts, there was talk of it becoming a song instead. Livingston explained, "Every year the rap has been getting more negative, and we are trying to sway away from that… We just want to say, 'Hey we are good at what we do and lets hype up our school.'"
Despite this year's effort to make the rap more positive than in previous years, Livingston and House of Blue received the news that they are no longer allowed to produce a rap.
Principal Damon Whittaker explained, "Although Mr. Peck (Video/Audio production teacher) and House of Blue have done an amazing job on PVHS productions, we have decided in conjunction with Chico High to not be associated with an almond bowl rap, as it increases the negativity surrounding this rivalry game."
Although there is no school produced rap, House of Blue will still be at games filming in support of the school. Whittaker stated, "We have talked to House of Blue and are hoping to create projects similar to the rap throughout the year that promote positivity and support our school and do not create a negative environment."