Chico Celebrates 50 Years of the Annual Almond Bowl Game
After a year of not being able to have major town events, the Almond Bowl game is back! Varsity football player Ryan Hicks, a junior, recalled how last year with the last of Almond Bowl crowds, "I didn't notice it too much," but that this season, "it'd be fun," to play for a Chico event. 
The traditional Almond Bowl game between Chico High and PV has been occurring for 50 years. According to varsity Coach Mark Cooley, PV and Chico are almost tied with Almond Bowl wins, saying, "One of us is ahead by one." According to an article by Sharon Martin from Chico Enterprise Record, as of before the 2017 Almond Bowl game, PV was leading with 23-22-1.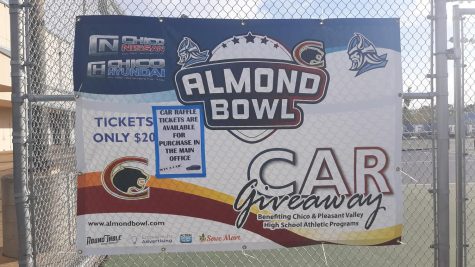 The rivalry started in 1968, when Chico High and PV faced off for the first time in a football game. Since then, the two teams have faced off yearly, in a game that, since 1971, has been called the Almond Bowl. This town-wide affair sparks other community events, like the Almond Bowl 5k and 10k, and the car giveaway. Sponsored by Chico Nissan Hyundai, a car is yearly raffled off to a raffle ticket purchaser. This year's winner will have the choice between a 2021 Nissan Sentra and a 2021 Hyundai Elantra. However, despite varsity and JV football getting most of the attention, other sports get involved with their own activities. For example, freshmen football has their Peanut Bowl and swimming has their Fish Bowl. 
Many of the sports and activities at both Chico High and PV sell the raffle tickets for the car giveaway. This raffle helps fund the many programs at both schools. This raffle is one of the ways for the sports and extracurricular programs to raise money for additional expenses they may acquire, whether it is new equipment or keeping up their practice location. Each team gets 80% of proceeds from the ticket sales. For girls basketball, Coach Paddock mentioned that "We just bought new uniforms last year, uniforms are a big expense, that's every couple years…also to run the team during the season, like tournament entry fees. It helps run the program as far as general cost." Despite PV's Almond Bowl history, Coach Cooley explained that "my record of the Almond Bowl is not so good…but, hopefully that's a different story this year."
The Almond Bowl game is on October 22 at 5:30 for JV and 7:30 for Varsity at PV's football stadium.